Singapore's Leading Peranakan Caterer
Looking for an authentic and flavourful experience of Peranakan food in Singapore? Look no further than Chilli Api, the top food catering service in Singapore specializing in delicious and traditional Nyonya cuisine.
Peranakan food, also known as Nyonya food, is a unique blend of Chinese, Javanese, and Malay culinary traditions that emerged from the early Chinese settlers in the Straits archipelago. At Chilli Api, we take great pride in crafting authentic and high-quality Peranakan dishes that capture the essence of this rich and diverse cuisine.
Our skilled food caterers prepare each dish with care and attention to detail, using only the freshest ingredients and traditional techniques. We make all of our rempahs (spice pastes) and kueh-kueh (traditional cakes) in-house from scratch, following original recipes that have been refined over generations.
Whether you're planning a wedding, corporate event, or private party, Chilli Api's catering services in Singapore are the perfect way to add a touch of Peranakan flavour and culture to your event. We believe that Nonya cuisine is perfect for any occasion and we are committed to ensuring that you always have access to the very best dishes.
So why settle for anything less than the best when it comes to Peranakan food catering in Singapore? Choose Chilli Api for an unforgettable culinary experience that will delight your taste buds and leave you craving more.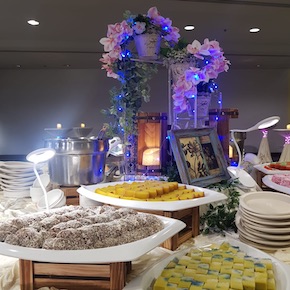 From $13.70 / pax ($14.77 W GST)

From $22.80 / pax ($24.40